LOYALTY:
GUARANTEED RELIABILITY
Between 2007 and 2012,
Ovoconcept introduced robots
into packing centres
to automate certain tasks.
Until now, the automations were purely mechanical, offering limited versatility.
Because Ovoconcept has been able to design perfectly adapted, versatile solutions, the company has been able to convince many packing centres in France and abroad to use robot cells.
Ovoconcept continues to move forward, driven by its experiences and collaborations with clients to develop a range of egg processing and packing applications, including many patents and innovations.
In 12 years, we have succeeded in developing 12 innovations allowing us to offer solutions for all the various packing centre and livestock farming tasks.
Many packing centres have entrusted Ovoconcept with the job of automating their production site.
Moreover, for the past two or three years now, we have noticed a second wave of automation systems in packing centres. Clients who chose Ovoconcept for their first wave of automation decided to continue with our solutions, which shows us their trust, their satisfaction and our reliability.
We have also observed other packing centres, which for various reasons did not choose us for their first round of automation investments but have turned to Ovoconcept for the next phases.
We continue moving forward for and with our clients in an aim to provide them with the best solutions possible. Whether they are first-time clients or renewing their trust, we are proud they have chosen our solutions.
We sincerely thank our clients, and we want them to know that they can count on our support and our continual search for solutions to satisfy their specific needs.
Thank you all!!
Thierry SOUQUET / Sales Director
News innovations
Innovation news: Labelling robot
Identification and traceability are critical components in automation. With several automated workstations for cases and open-top cases with prepacks or inserts, the goal is to direct all the packages to the palletising robot at the end of the line. As a part of these processes, every package needs to be identified via a local labelling printer or an ink-jet printer. However, by multiplying the number of robot cells, we also multiply the number of printers which means a considerably higher investment.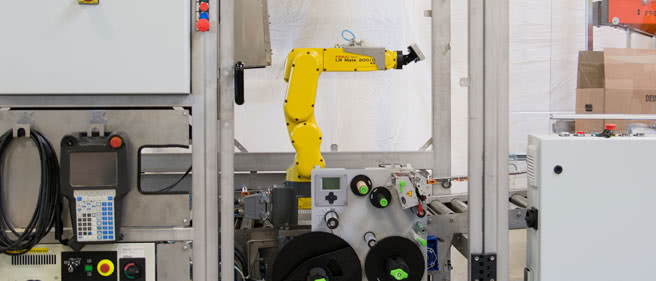 To sidestep this problem, Ovoconcept developed a compact robot cell that is positioned before the top tray denester (if there are bulk egg packages) and before the taping machine to identify each package with a label containing all the information the client needs. The system features a camera and a 2D reader that identifies the products by their QR, datamatrix or bar code. If neither of these codes are present, the camera can identify the product by recognizing one of its specific details.
This information is sent to a thermal printer inside the robot cell. The corresponding label will be printed, then an automated mini-arm mounted atop the robot cell will take the printed label and position it on the package for identification.
The advantage of the robot is that it will place the label on any side of the package, wherever it is needed in relation to visibility, at the palletiser at the end of the packing line.
Depending on the different pallet patterns, the labels will be positioned differently on the packages. Even identical packages may have labels in different places to account for how the layers are stacked on the pallet.
MINIGRAD
With a total of two automatic packing lanes and a maximum rate of 10,000 eggs/hour, the MINIGRAD 10 egg grader was developed to significantly increase the productivity of medium-sized egg packing centres whilst reducing their labour costs.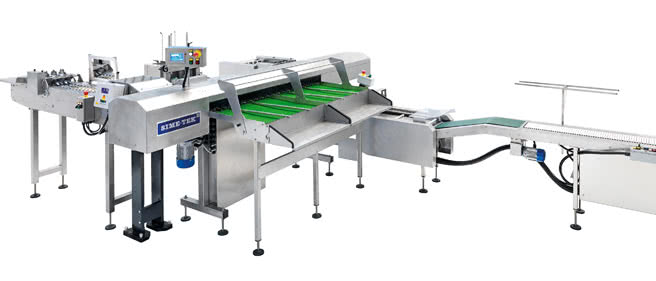 With its touchscreen, the electronic grader allows for eggs to be sent to either the automatic or manual lane. The ink-jet printer communicates with the grader to mark the eggs according to their category (multi-message function).
In less than one year, six MINIGRAD 10 egg graders are now up and running in France. The electronic weighing system offers reliability and versatility to more effectively meet the automation needs of 20,000-eggs/day packing facilities.
News internationales
ZOOM ON THE FACILITES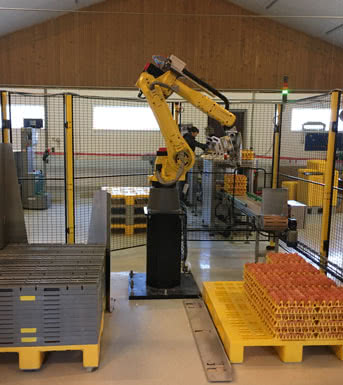 GEFLÜGELHOF STERRER (Austria)
The company STERRER GmbH, represented by DI Gerold STERRER, has been a major player on the Austrian poultry market since 1931.
The company is Austria's sole distributor for the German equipment manufacturer Big Dutchmann and for our partner Sime-Tek, the Italian farmpacker and grader manufacturer. Moreover, STERRER GmbH has produced table eggs for more than 25 years.
With the construction of an additional building to accommodate 20,000 laying hens, totalling 45,000 layers on the same production site, STERRER GmbH needed to update its egg collection equipment.
In an effort to rationalise labour costs, STERRER GmbH decided to invest in the FLASHPACK solution, a new farmpacker with a rate of 40,000 eggs/hour, and the JUNIOR AE40LC, our palletising robot.
This brand new production line allows the company to collect two times the volume of eggs with reduced egg collection times and improved working conditions.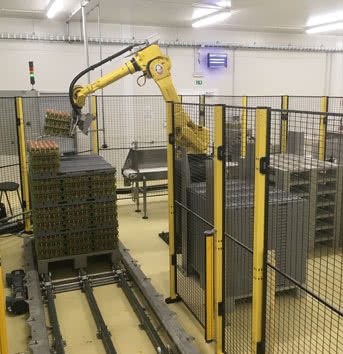 OMAS SPOL SRO (Czech Republic)
Thanks to OMAS SPOL SRO, our Czech Republic representative, we installed our first JUNIOR AE80 egg trays palletizing robot on a 160,000-hen layer farm. The production site forms part of the Czech Republic company AG MAIWALD.
Installed behind the farmpacker (72,000 eggs/hour), our JUNIOR AE80 robot can build two 6-tray stacks simultaneously at a maximum rate of 80,000 eggs/hour.
For the most versatile robot solution, we installed a top tray denester to pack the eggs in carton or plastic trays. The full pallets are evacuated via a stainless-steel automatic output chain conveyor and weighed individually thanks to an integrated weighing system.
These two Central European installations solidify our approach to international development. We extend our sincere gratitude to these two clients for their trust, and we are convinced that this type of installation will continue cropping up in this region of Europe.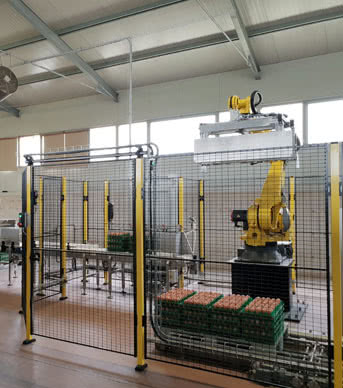 AZIENDA AGRICOLA BRUNELLO (Italy)
Thanks to regular attendance at international trade shows and a successful collaboration with our Italian partner Sime-Tek, we installed three egg trays palletising robots in Italy, one of which was for the company Brunello.
Mr. Brunello was won over by the Sime-Tek farmpacker during a visit to a complete installation in Brittany! He chose a double packer, the FLASHPACK 80,000 eggs/hour and a palletising robot, the full-option OVOPERFORMER P400 with two tray denester automatic feeding systems on the packer. The robot is equipped with a 90° stack transfer system after the stacker (handles a single batch on two packing lanes). It takes and builds four 6-tray stacks simultaneously, then full pallets are automatically evacuated with an accumulation capacity of three pallets. "We opted for the Sime-Tek-Ovoconcept combo because of this production line's unrivalled efficiency, flexibility and reliability", Mr. Brunello told us.
Zoom on...
MARTINIQUE AVICULTURE: An Ovomulticaser for handling the production of bulk cases
Located in Le François on the island of Martinique, the packing centre and long-standing Ovoconcept client MARTINIQUE AVICULTURE is already a highly automated site with no less than five robot cells installed since 2012.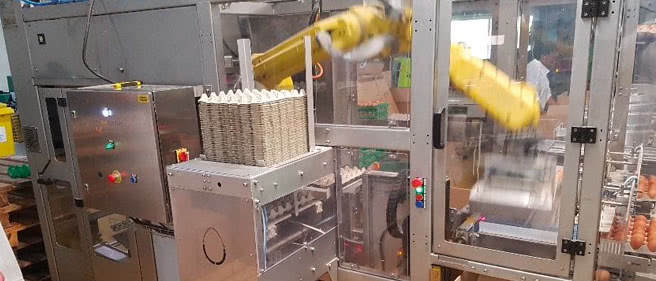 The Dauchy family's most recent challenge was finding a solution for managing bulk eggs (30 trays) packed in cardboard boxes.
After study and analysis with the management team, they decided on the robot cell Ovomulticaser. This robot solution is positioned directly at the two grader lanes exits. It creates and fills cardboard boxes with 60, 90,180 or 360 eggs).
The rear of the robot features case erector. Cardboard blanks are laid flat in the magazine. Gantry technology takes the blanks one by one, then a carriage takes the blank, erects the cardboard box, closes the bottom flaps and positions the box for filling.
An automated arm takes the egg trays at the grader lane exits and fills the required cases. The robot solution may also include a top tray denester.
Once the cardboard box is full, it is ejected onto a conveyor, identified via a local labelling printer at the robot cell exit and sent to the taping machine. Finally, it is sent to the palletiser at the end of the line where all the packages from the different workstations are managed.
This Ovomulticaser robot cell, with a rate of up to 20,000 eggs/hour, allows MARTINIQUE AVICULTURE to process all their bulk eggs in cases for the day's production. They just have to feed the magazines with the cardboard blanks and top trays.
Ovoconcept is quite proud of this installation and would like to thank the Dauchy family once again for the trust they showed in us by purchasing their 6th robot solution in six years.
The family's highly automated packing centre is a perfect example of the reliable solutions Ovoconcept offers its clients, even at 8,000 km from its hubs.
Breaking news...
La Ferme du Pré / Martinique Aviculture
We extend our sincere gratitude to the Ferme du Pré for their renewed trust in Ovoconcept with the installation of three Junior egg trays palletising robots in their livestock farming operation.
We would also like to thank our clients Martinique Aviculture and CAIF, who have both counted on us once again with the purchase of a LA3000 tray washer!